New Businesses Database
Country-specific databases of newly created businesses. Ideal for companies wishing to sell products or services to brand new businesses.
Points-of-Interest Database
Country-specific databases of business addresses that can be visited and that are of interest to the public. Companies that cannot be visited, such as those in the "heavy machinery" industry, are excluded. Ideal for GPS and smartphone mapping applications.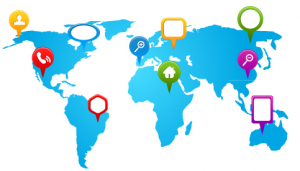 Chains Database
Country-specific databases of chain store locations, government satellite offices, and other types of chain businesses. Ideal for a wide variety of consumer and government/regulatory applications.
Biz Triggers Database
Country-specific databases of significant business events, such as a new round of financing, relocation, hiring of new executives, and more. Ideal when you need to know which companies are making moves.
TopUp Data Feeds
For each of the databases listed above, there is a corresponding TopUp service. Once again, you can choose daily, monthly, quarterly or whatever time period suits your needs best.

Custom Solutions
Custom solutions built on our proprietary and highly evolved underlying technology architecture and data extraction algorithms. If you can imagine it, we can build it. See the Services section.